CLICK HERE TO VISIT OUR NEW WEBSITE
Welcome to Chandra Dental Clinic : Dental Implant Centre
Ultimate Dental Clinic in Lucknow includes every specialized treatments : Orthodontic or braces, Dental Implants, One Day Implants, Tooth Whitening, Cosmetic Dentistry, Dental Veneer, Crowns & Bridges, Periodontics, Prosthodontics, Pediatric Dentistry, Oral & Maxillofacial Surgery and also Endodontic treatments, Gum Surgeries including regular dental check up.
Chandra Dental Clinic & Dental Implant Centre located in Kamla Devi Hospital, Lucknow provides the ultimate Dental Care with a holistic approach to treatment standardization in all areas of dental work. We strive to offer patient oriented treatment in our centre.
Our friendly and service minds are comfortable bright setting endeavors to make your visit with us a wonderful and pleasant one. Come in and relax before your appointment for a few minutes as our lobby area is spacious, comfortable & clean.
We also have fully equipped modern clinics that is among the highest standards of technology in India.
While this provides our patients with more options for treatment, we also protect you with outstanding sterilization methods which ensure the safest possible treatment. At Chandra Dental Clinic Lucknow, India, we take pride in our outstanding record of strict sterilization system and health care.

CLICK HERE TO VISIT OUR NEW HOME PAGE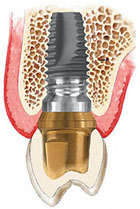 Get back your lost teeth!